Our training courses are offered online: virtual classroom (Synchronous), E-learning (asynchronous). Sessions in physical class in Montreal, Quebec, Gatineau or Ottawa
Certifications :
Doussou Formation is authorized and accredited with the Regroupement des Achats en Perfectionnement (RAP) of the Shared Services Center of the Government of Quebec

Doussou Formation is a training center (information technology, project management, human capital, accounting) approved by the Commission des Partenaires du Marché du Travail (CPMT) of Quebec. | Certificate number: 0059980 |
Partners :
ENI | E-learning solutions

ENI has been an expert in digital training for over 35 years. The company combines four disciplines that work in synergy: a digital training center, a computer school, e-learning training and an IT content editor. With references in all sectors of activity and an international presence, ENI is a partner of choice for Doussou Formation.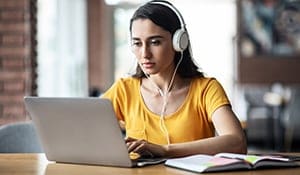 Formation en ligne
Vidéos de formations sur les logiciels en bureautique
Mark Plouffe, Gouvernement du Canada/ Government of Canada
I want to thank you both for providing my resources some excellent training(Cobol) over the past 3 days. Mamadou, thank you for being so accommodating on such short notice and for sending your facilitator to Gatineau for this customised and personalised training course. We'll look forward to continuing our partnership for future training needs.
Maryse Duguay – Business Analyst
I appreciated the teacher's teaching methods. The fact that we are a small group made learning easier. He adapts to his audience and the exercises are formative. I highly recommend.
Martin Côté - Quality Assurance Analyst - Self-employed - Montreal
It was a pleasure to do business with Doussou Formation. What makes THE difference is the personalized service that fully listens to the participants as well as the adaptation to training needs. Flexibility / Adaptability / Professionalism / Courtesy. Thank you!