Our training courses are offered online: virtual classroom (Synchronous), E-learning (asynchronous). Sessions in physical class in Montreal, Quebec, Gatineau or Ottawa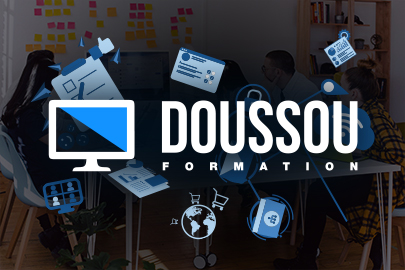 Doussou-Formation, leader dans les technologies de l'information
We assume our leadership in the information technology and office automation industry in Canada and elsewhere, by providing training to members of the companies that are our clients. We help optimize the work of their staff in several IT environments. In order to support the high degree of satisfaction of our customers, we obtain precise evaluations after each training, constantly improve our knowledge and create new training to anticipate needs. To maintain our leadership, the management of our company, assumed by Mr. Mamadou Dembele ing, teams up with experienced trainers who are carefully assigned to each training from Montreal, Quebec and the regions of Ottawa and Toronto.
The advantages of taking training with us:
A course material for each participant;
Small group training;
Practice-based methodology
Drinks offered during breaks in public sessions;
Dinner offered at a nearby restaurant in public sessions
parking (only in certain cities)
THEY TRUST US
Many companies and institutions trust us and continue to frequent our classrooms. So why not you!
National
Curateur public du Québec
Ministère de la Défense nationale / Gouvernement du Canada
Banque Desjardins
Bibliothèque et Archives nationales du Québec (BAnQ)
STO | Société de transport de l'Outaouais
Ville de Montréal
Optel Group
Vidéotron
Tourisme Québec
TC Transcontinental
ALIZENT
PMG Technologies
Canatal
Tidan
Bell Média
UPAC | Unité permanente anticorruption
Bip Sondage
TNB
Communications CSFP
K.I.D. Toy
VEOLIA Canada
…
International
Aviation Civile de la République Démocratique du Congo (AAC/RDC)
IMIE | Ecole de la Filière Numérique – France
Koala Web – Guadeloupe
Malitel (Opérateur de Télécommunication au MALI)
Spécialiste des Technologies de la Télécommunication et de l'Informatique ua MALI
DAVIDSON PARIS – France.

Mark Plouffe, Gouvernement du Canada/ Government of Canada
I want to thank you both for providing my resources some excellent training(Cobol) over the past 3 days. Mamadou, thank you for being so accommodating on such short notice and for sending your facilitator to Gatineau for this customised and personalised training course. We'll look forward to continuing our partnership for future training needs.
Maryse Duguay – Business Analyst
I appreciated the teacher's teaching methods. The fact that we are a small group made learning easier. He adapts to his audience and the exercises are formative. I highly recommend.
Martin Côté - Quality Assurance Analyst - Self-employed - Montreal
It was a pleasure to do business with Doussou Formation. What makes THE difference is the personalized service that fully listens to the participants as well as the adaptation to training needs. Flexibility / Adaptability / Professionalism / Courtesy. Thank you!